More Clients.
More Joy.
Get more consistency, confidence, growth and joy in your pet business now and for the long-term.
What You'll Find Here...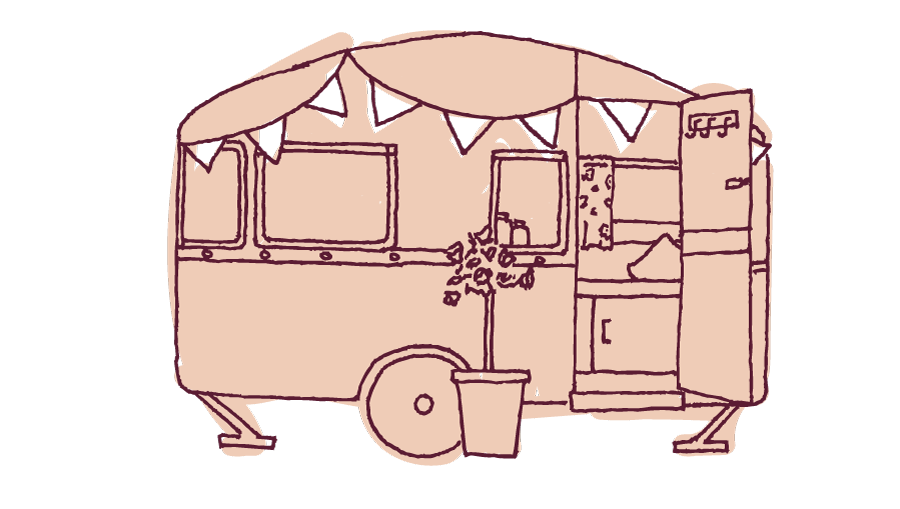 Freedom
Finally build the business that gives you the kind of space you deserve.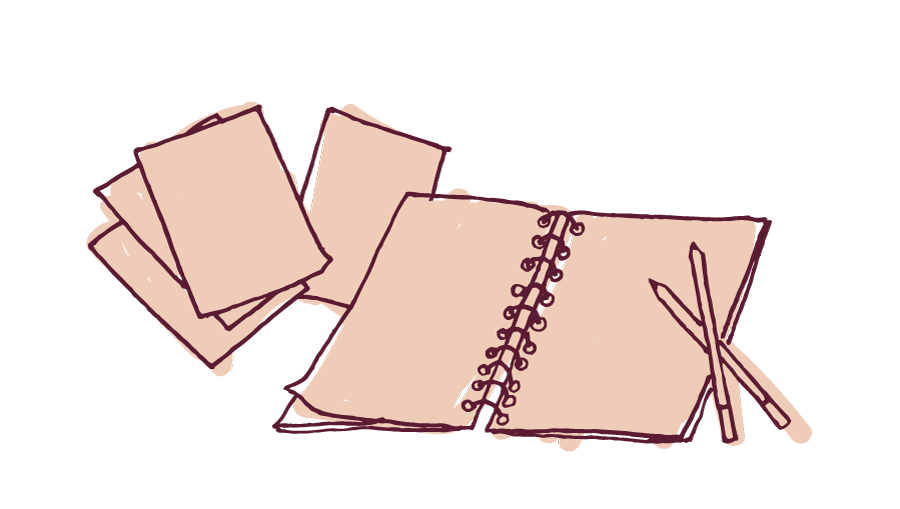 Research
Everything we do, teach and share is backed by geeky science & research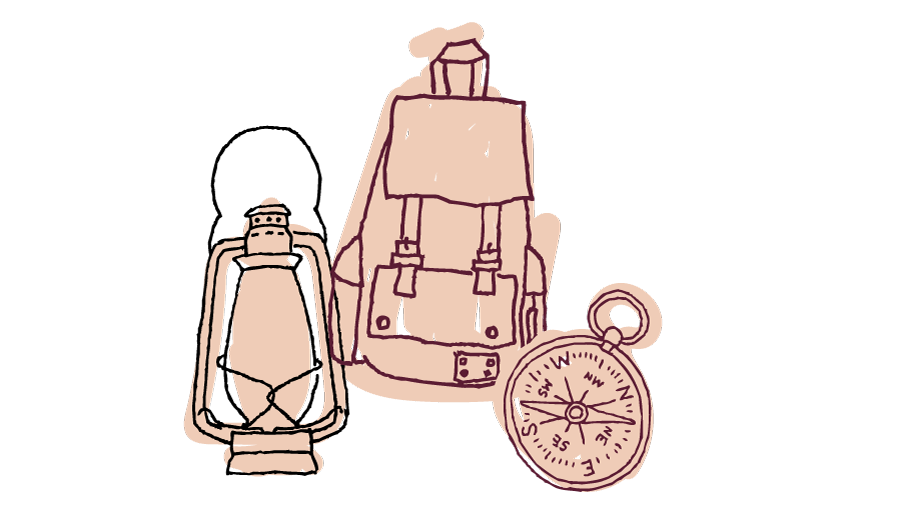 12 mo. Plan
The 'how' is easy when you have a simple, step-by-step plan to follow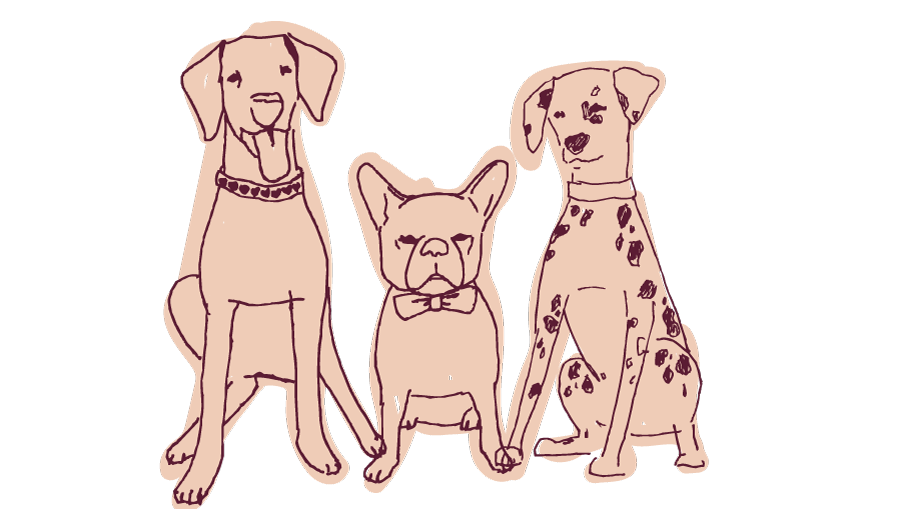 Support
High-quality Coaching creates winners. Community sustains them.
What our members have to say
I want to say THANK YOU for everything. I have not regretted my WWD membership for one second. Now thanks to you I'm a Canva monster! It may not seem like a big accomplishment but I just surpassed 1,000 followers on Instagram and 500 on Facebook all organically.
I inquired about hiring someone else to do my social media and that alone (no blog, or emails, or coaching) would have set me back about $1000 CAD / month, so yeah... WWD is INCREDIBLE value for money, especially for someone like me who struggles to come up with content. Thank you for providing this service!
- Donna
I've been a WWD member for some years now. I came here for content, access to top coaches and creative ideas to expand my brand. What I did not expect was the amazing sense of community here. I have made some genuine connections and business partners along the way. It has been worth EVERY penny.
- Jodi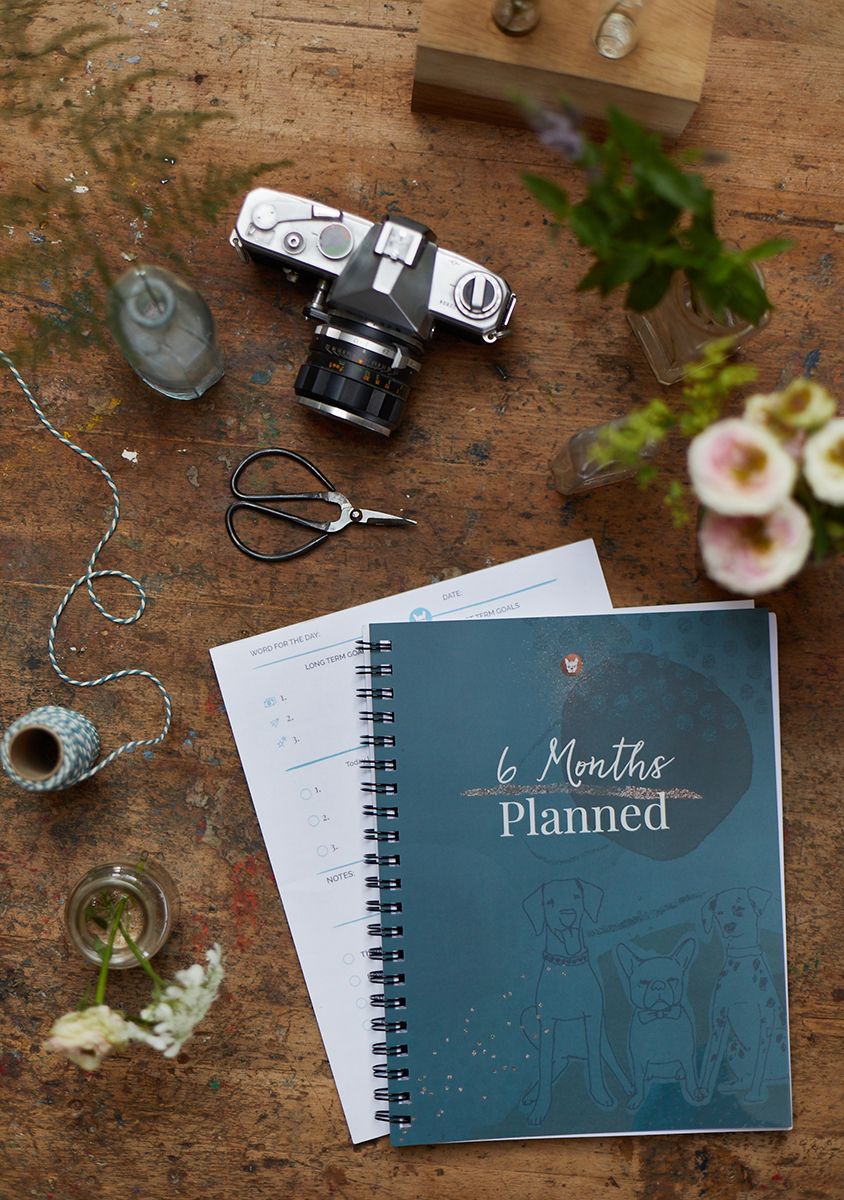 READY FOR A TOTAL MARKETING MAKEOVER?
Get more clients, more consistently with more JOY
Imagine how it would feel to have a 12 month plan to grow your business... with exact steps to follow, one quarter at a time.

What if all it took to be successful was to follow that plan, show up for a call or two each month to get accountability for planning, doing your done-for-you content marketing, and to receive powerful coaching and priceless tech support.

What if it's not as hard as you think to grow, and you've just been trying too hard for too long all by yourself... what if all you needed was a bit of the right help and a few pieces of the marketing puzzle done for you?
This is reality for our members.
Each month our members use the done-for-you marketing templates we provide to get all their basic marketing done in just 2 hours.

PLUS they have access to coaching calls, additional marketing challenges, weekly accountability, an entire Academy FULL of how-to resources (created JUST for petpreneurs) on topics ranging from starting a podcast to using LinkedIn, to FB ads... and of course our warm, inclusive community of petpreneurs who are all working towards similar goals.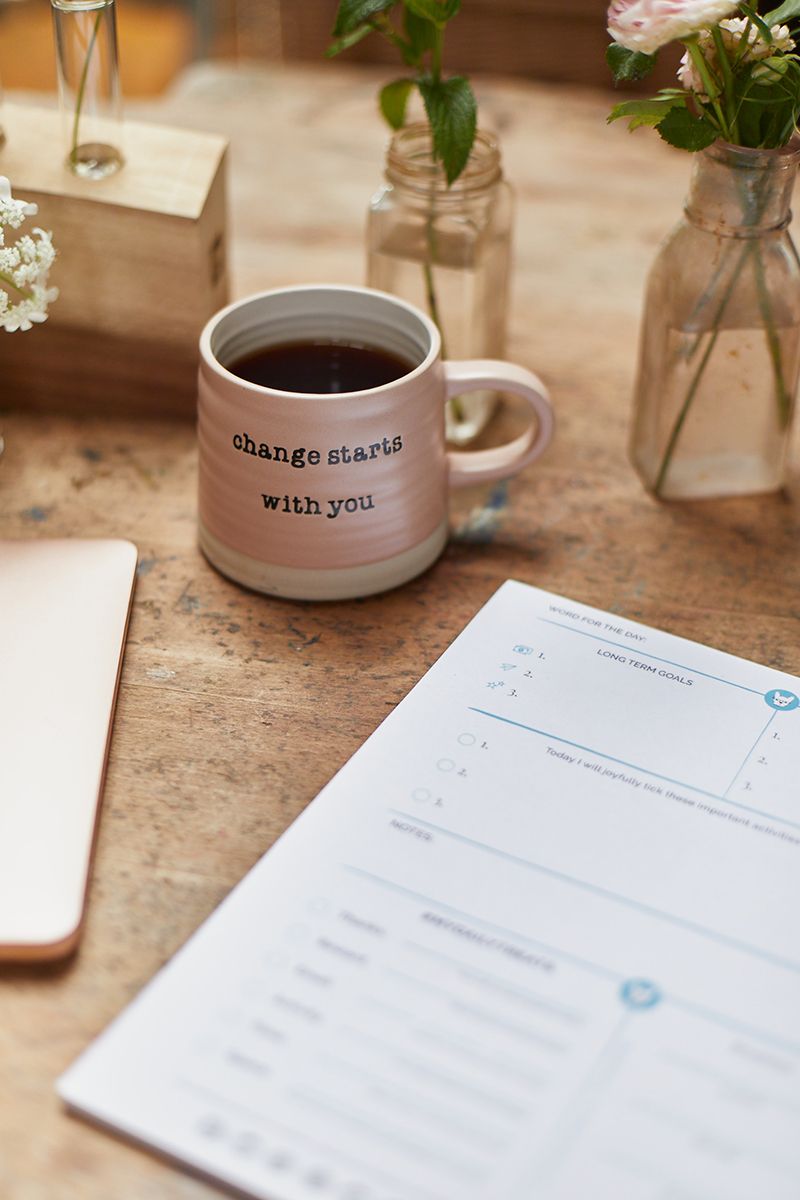 BEAUTIFUL, RIGOROUSLY RESEARCHED PET MARKETING TEMPLATES EACH MONTH
Blogs + Emails + Social Posts + Videos + Graphics
YOU ARE INVITED TO JOIN US
Doors to the 12 Month Marketing
Makeover

are Officially Open 🎉
Grow Your Pet Business with Confidence

You didn't start a pet business to create a crappy stressful job for yourself.
Entrepreneurship is supposed to be about
freedom and joy, not guilt and stress.
We all deserve that: the freedom, space and support
to be curious, creative, generous, wealthy and well - to experience more joy:
not by hustling, but just by being who we are
.
We help our members tackle their marketing and
grow their businesses in ways that feel more like freedom and joy
(and less like constantly chasing the latest trend)
but when we asked them... here are some
hidden benefits
our members mentioned:
More Confidence

Increased Clarity


More courage

Finally getting consistent

Community & Connection
All of this is available to you too... join us and set aside
just 2-4 hours a month!
MOST IMPORTANTLY OF ALL...
💰 Our Members are making More Money 💰

THIS EMAIL LITERALLY JUST CAME IN...
"WWD is an Incredible Resource!"
"I wanted to let you know that I think WWD is an incredible resource! When I was trying to get my new business off the ground, I was so grateful for the access to marketing, and Nic and Jane as experts that offered up their time and experience for such a reasonable price!


I love what you guys are doing and will recommend you to everyone in the pet industry that I know. It is so invaluable and you both are a pleasure to work with."


- Cheryl,
Happy Hearts Dog Adoption Services
JUST LOOK WHAT'S POSSIBLE WHEN YOU
Get the Support You Need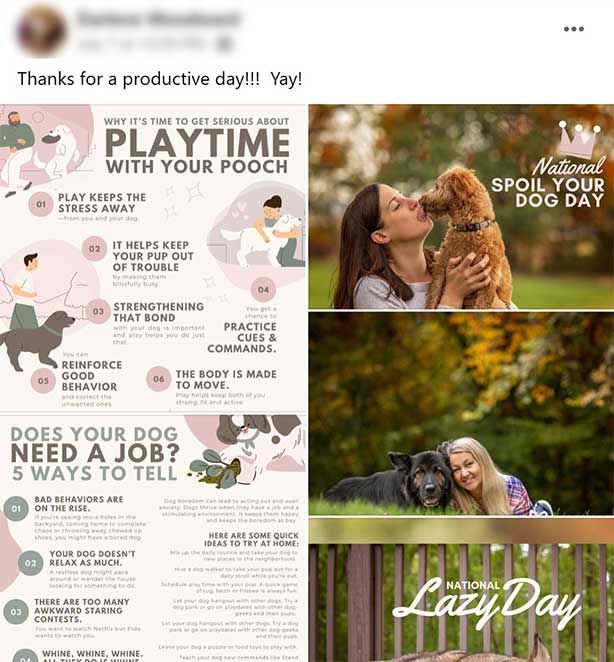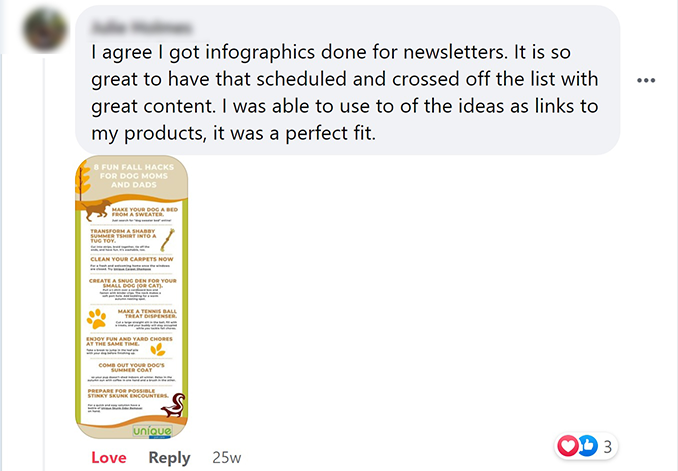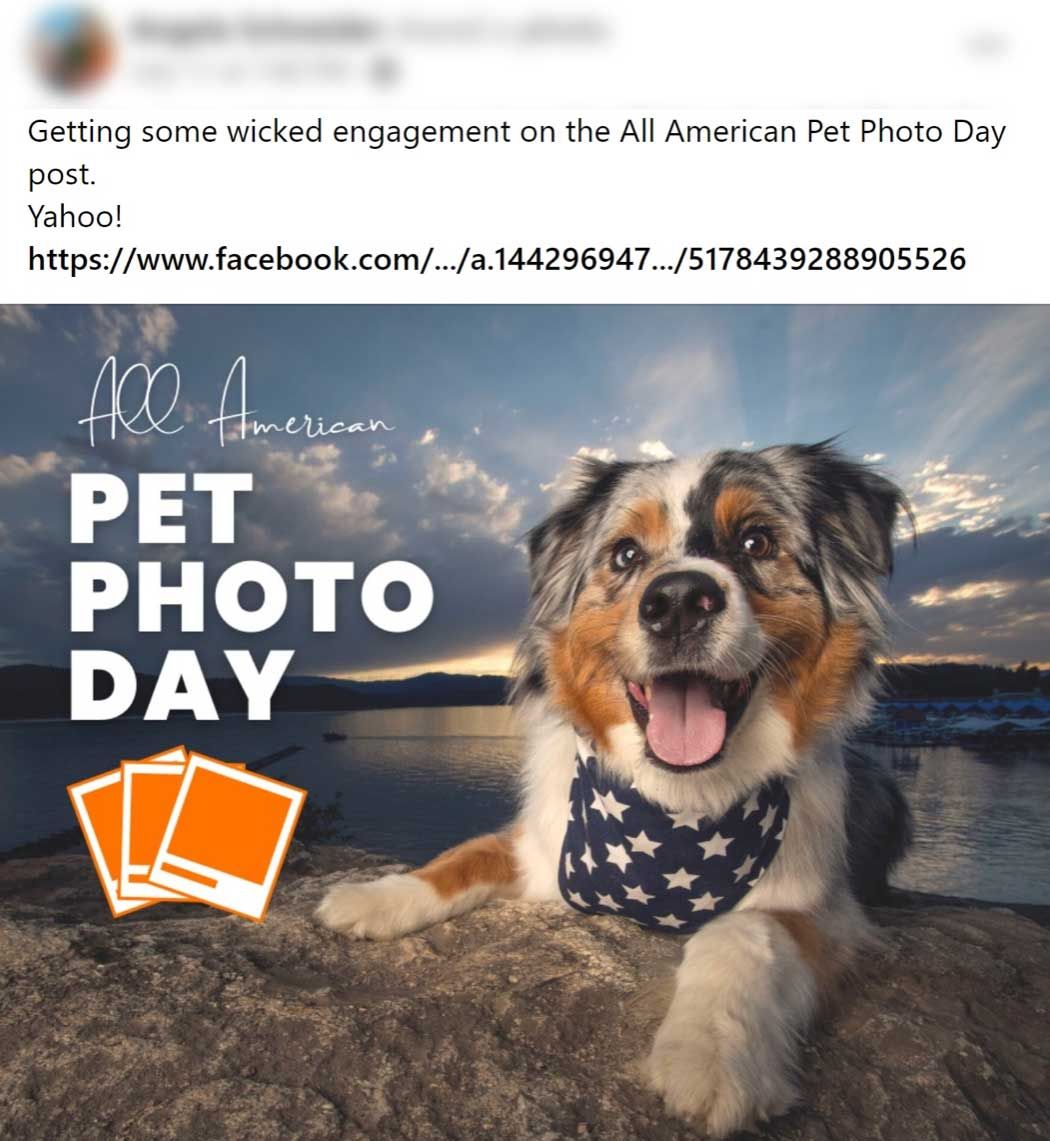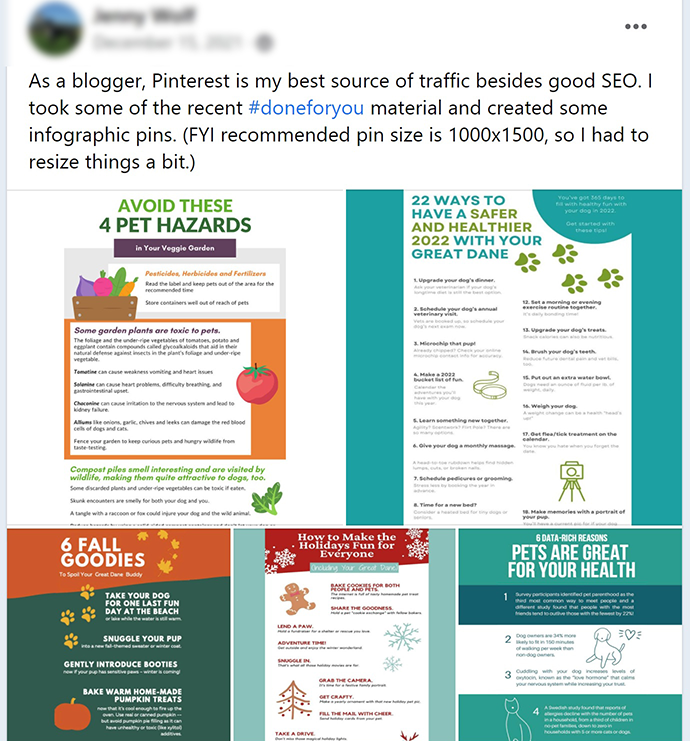 "My Social looks like I spend hours on it, but I don't!"
People say how amazing my social media is and honestly, I really don't do much - I just take the stuff that WWD provides, put my logo on it, and it's done!
People are like 'you must spend hours on your social'. No, it just looks like I do. It's brilliant!
When think about all the time that I save finding images, coming up with copy, finding the stories to report on… that alone pays for the membership!
Add in the weekly coaching and it's such a no brainer - but there is so much more that I love knowing is there when I need it...
Especially the amazing community of lovely people, all like-minded business owners. I
t's quite fabulous!
Diane Rose-Solomon, Animal Magic Films
So much more than Marketing Templates, Expert Coaching and Community...
#Read | #Watch | #Learn | #Improve
If you've been trying and failing for what feels like forever to get your marketing working of you - you're not alone. It's not just the knowing and the doing that make it work... it also takes a bit of magic that only comes when you're feeling free from the grind of guilt, stress, overwhelm and 'not good enough'.


Our members find themselves, find life-long friends, and
find confidence they didn't even know they had in them.
This is why we do it.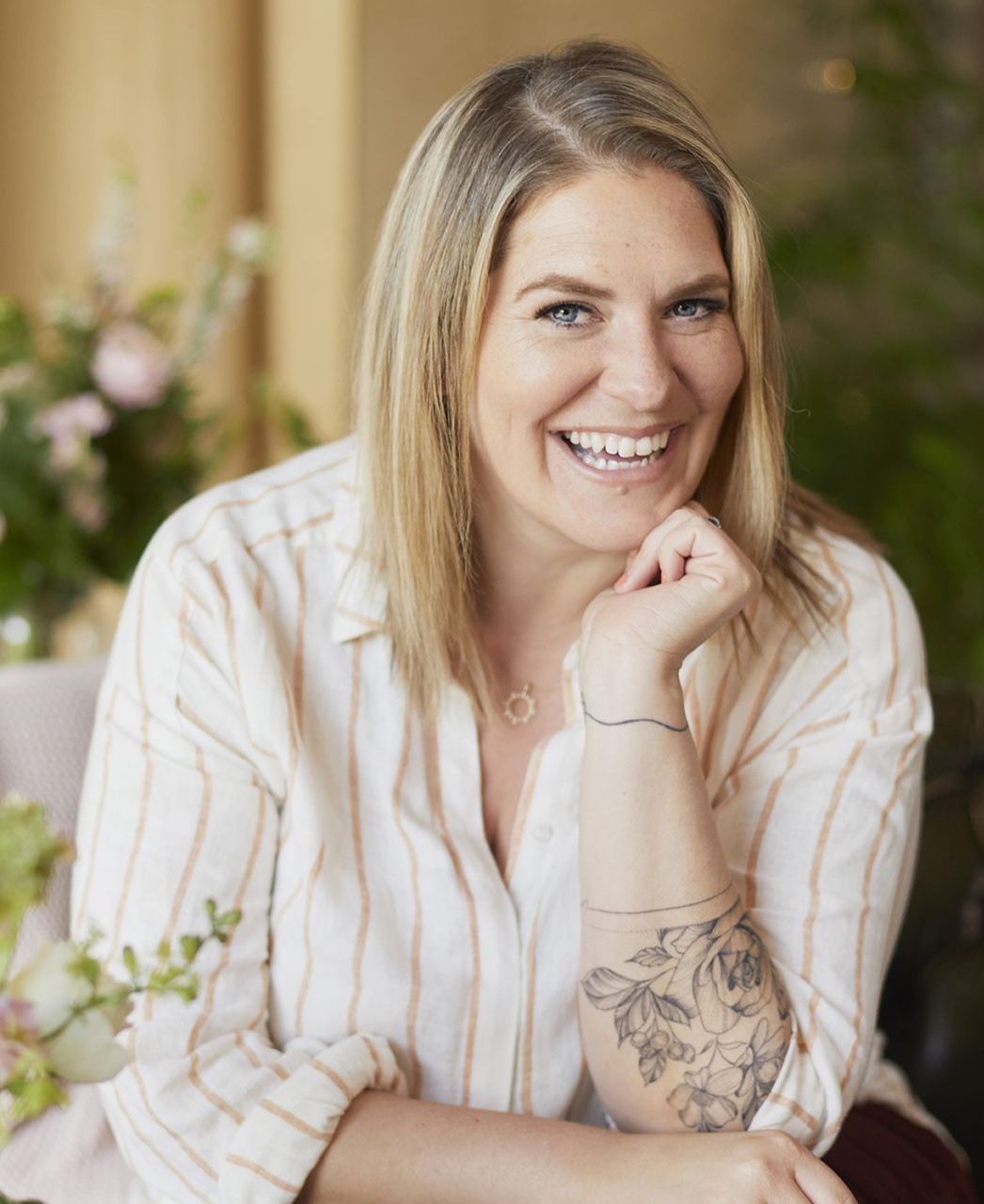 You deserve a life of freedom & fulfilment
I am here to help create a joy first world.

I believe that we all deserve a rich and colourful life full of meaningful work and relationships, free time, free will, and financial freedom. Entrepreneurship can be the key to unlocking this life -
but only if you're very purposeful about it.
I also believe that we each must
give back more than we take...
So in my world, success looks like focusing on joy, profit and purpose
equally.

For us and our members, giving back is a top business priority... but generosity requires boundaries: so we help our members find the sweet spot between freedom, business growth and positive impact.
WHAT DOES YOUR YEAR OF GROWTH INCLUDE?
A 12 month plan, done-for-you content marketing, Expert Coaching, Community, Unlimited Learning Resources & more...
Everything you need to master a marketing habit: grow your business and free up your headspace so you can finally focus on the important sh*t
"WWD is helping me create time"
I didn't have the time to blog and I was only doing social in little pieces. Now I am bashing a lot of social media and getting the blog done on the Accountability Call each month. Suddenly I am doing things that I didn't have the time for. WWD is helping me create time.
My biggest concern was just having the content and never doing anything with it, but WWD keeps me accountable. It's not just 'here's some things to read, here's a group and goodbye'. It's consistent.

I am great at like joining things and never utilizing them, but this membership has people that are constantly making sure you're accountable and that's what I need. I definitely feel I'm getting my money's worth!
Kelly Loeffler - k schulz photography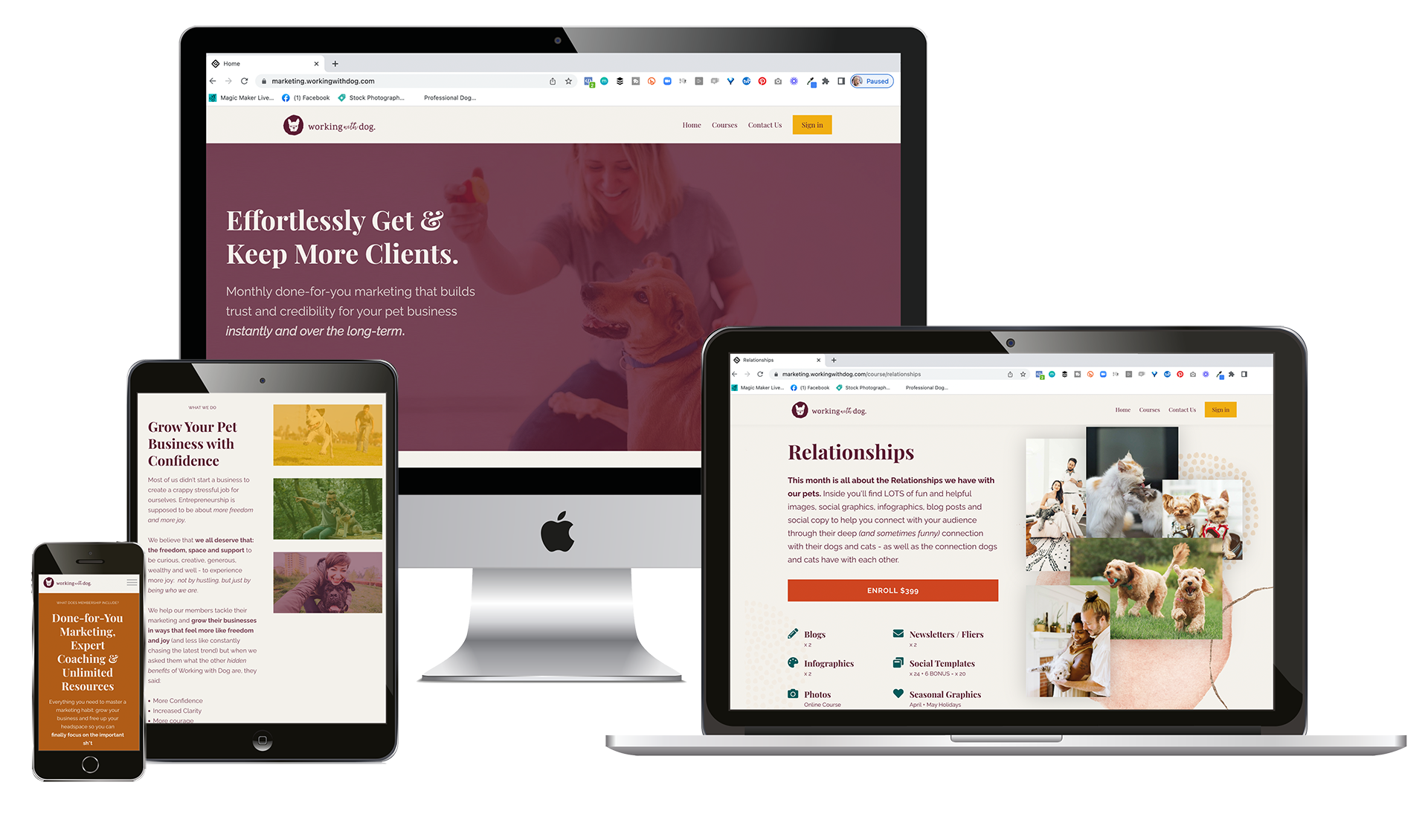 Done-for-You Blogs
Two fill-in-the blank blogs a month, ready for you to customize add post.
Done-for-You Video Prompts
At least two specialised video prompts each month to help you up your short-form video game
Done-for-You Emails
Two done-for-you newsletter concepts each month ready for you to send to your list.
Creative Copy
Each blog, newsletter and social template comes complete with cheerful, well-researched copy.
Done-for-You Social Media Templates
Prompts for static, carousel and video posts to use on LinkedIn, Instagram, Facebook, TikTok or Pinterest
Stock Photography
Each of the blogs and social posts comes with perfect ready-to-post images.
Done-for-You Canva Templates
100 + graphics when you join and more each month to support your ongoing design needs
Hashtags
Each social template comes with one or more hashtags - perfect for helping your posts get found.
Fresh Industry-Leading Content:
Delivered Monthly
Fresh Monthly Content:
2x Blog Posts




2x Emails




12+ Social Posts




2x Video Prompts




12+ Stock Images




Copy + Hashtags



Expert Content
Impactful Design
Use as-is or Customize
For each of our designs choose
from 4 different brand styles
based on Color Psychology

Coaching & Accountability
Accountability Call
Two hour call at the start of each month to help you get all your marketing done - LIVE.
Weekly Accountability
Threads in the Facebook group each Monday and Friday to help you focus for the week.
Monthly Live Consulting Call with Nic
Group call at the end of each month to answer your q's, do hot-seats, share wins and connect.
Planning Sessions with Heather
Monthly + extra Quarterly planning sessions with our resident Productivity Coach
Quarterly Implementation Days
Full-day workshops once a Quarter to tackle a big topic or project and work on it together - LIVE.
Tech Support with Tracey
Monthly tutorial and tech hot-seats with Tracey to help you tackle any tech in your way
6 Years of Learning Assets + Business Acad
Hundreds of videos, articles, tutorials, how-to guides and more at your fingertips on every marketing topic under the sun.

12 Month Plan
A complete step-by-step plan broken-down into 4 distinct phases to help you focus and grow
Video Tutorials & Workbooks
Put any learning into action straightaway with simple workbooks and exercises.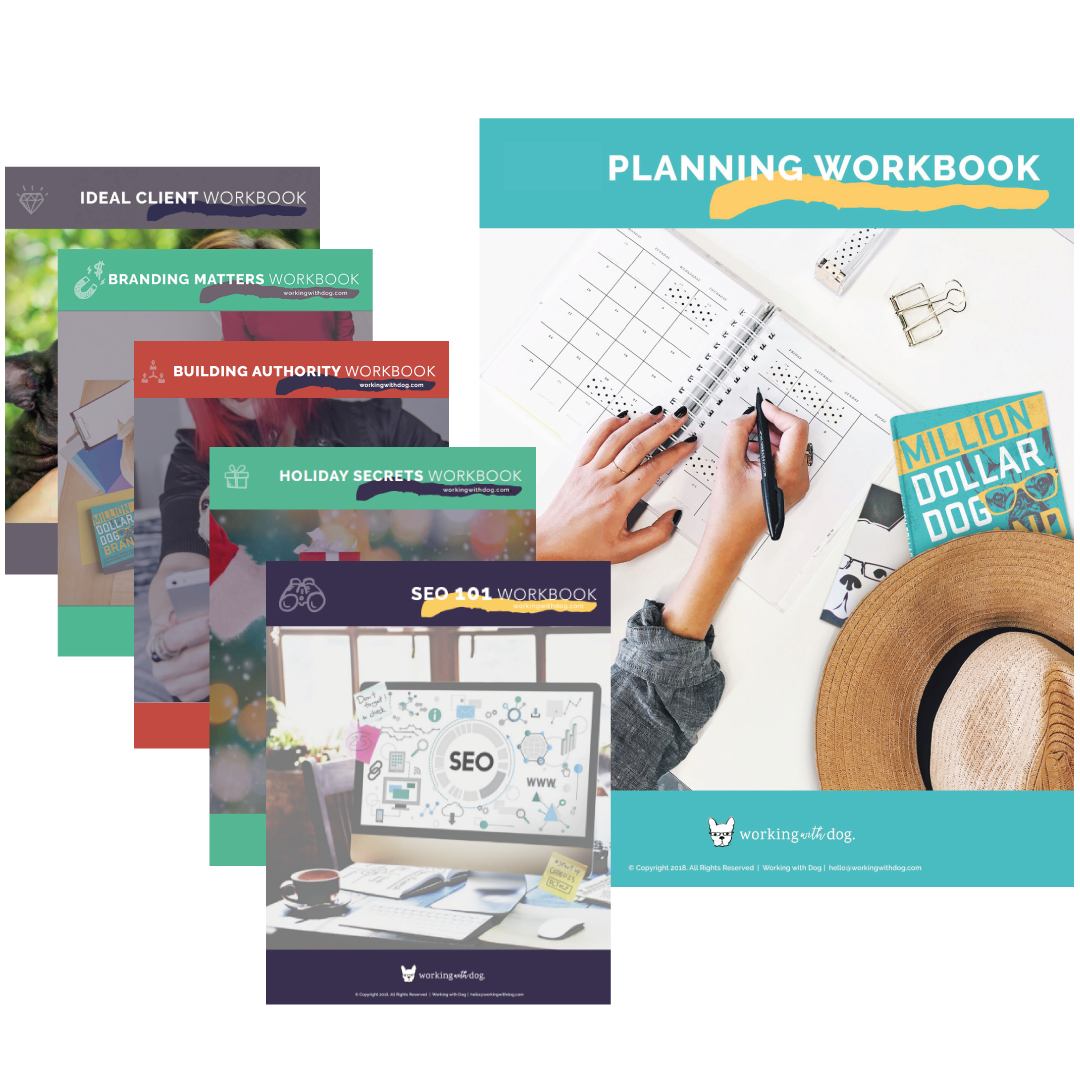 A Few of the Themes include...
Sales Pages / Pricing
LinkedIn / Instagram
YouTube / Facebook
Facebook Ads / Pinterest
Authority Building / Delegating
Design / Whyfinding
Contests / Productivity
Promotions / Launching
Video / Photography
Content / Google Analytics
Google Adwords / Website Audit
Beating Burnout / Going Live
Sales Funnels / Black Friday
Podcasting / SEO
Ideal Client / Email Marketing


Bonuses worth over $4500
Check out the special goodies we've got on offer for those of you who are ready to jump in and commit to your growth now.
Get a complete step-by-step 8 module course complete with extensive templates, worksheets and exercises to help you build a joy-first business one baby step at a time. Value: $1999
Never before have we given new members access to the themes that came before they joined...

But now if you join you'll get to access every pet theme that we've built into our new platform - that's over 2 years (24 themes) of ready-to-post pet lifestyle content, from puppies to pet-friendly travel. Value over $999
6 Mo. Planner
We have never before given away a printed planner to our members, but as we double-down on helping you get organized it seemed like the most natural thing in the world... and you won't just get 1, but 2 - one for each of the 6 months you're in the program.
If you join WWD before Dec 31st then you will get access to Nic's super simple (very brilliant) content planning system + calendar - which is designed for anyone from newbie to expert.

In this bundle you'll get a spreadsheet for your editorial calendar and a pre-recorded workshop and worksheet where Nic will walk you through her personal content planning system. PLUS you'll get a little 'ideal client avatar' workshop at the beginning of the content planning workshop video - so you know WHO the heck you're writing for!

She'll show you how to plan a YEAR's worth of content topics in 90 minutes. The process is super simple, flexible and designed to make sure you're getting your content right, every time, but without getting stuck in perfection. Gone will be the days of planning nothing, and posting your coffee because you've got nothing better to talk about!
THE TIME MANAGEMENT TOOL THAT FIXED MY PROCRASTINATION FOR GOOD
There is one resource that has always had amazing feedback from WWD members + my clients.

I call it the 'Daily Planner' or 'Daily Tracker' and it's a simple one-page worksheet that walks you through dozens of behaviours and prompts based on the most effective success and happiness habits.

When you are able to create a regular habit of sitting down and filling out this worksheet, it will help you profoundly transform not only the progress you're making and results you're getting - but also how satisfied, accomplished and grateful you feel at the start and end of each day.

It's one of the most simple yet effective tools I've ever used for time management, focus, and feeling organized each day. It eliminates overwhelm, keeps you focused on both the big picture and the details, and even helps you look after your own wellbeing.

If you join WWD before the deadline tomorrow, not only will I send you a pad of these simple planning worksheets, but I'll also be hosting a special group workshop to help you understand how it works, and to help you START the daily habit of using it - so it can help you feel happier, more together AND it will help you get the most of your shiny new WWD membership!!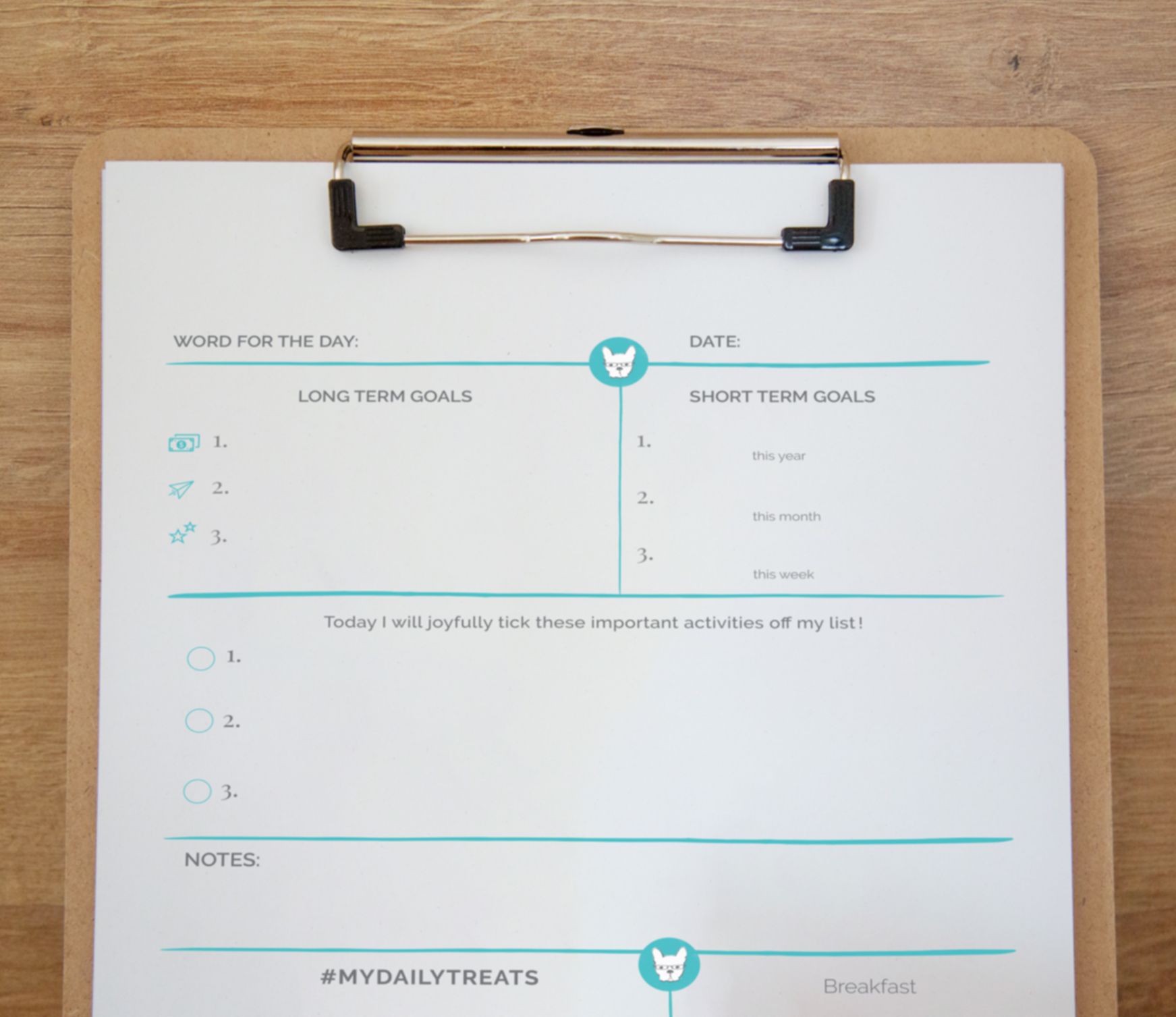 THESE BONUSES ARE EXPIRING SO IF YOU WANT TO GRAB THEM
You'll need to join before Dec. 31st
Pay in Full
Admission to this program requires a min. 1 year commitment. Membership will automatically renew each year until cancelled. Cancel anytime after 1 yr.
Supportive Community

Weekly Accountability

Monthly Coaching Sessions

Monthly Growth Challenges

Monthly Content Creation Call

Monthly Tech Support Hot Seats

Monthly Planning Sessions

6 mo. Printed Planner

Quarterly Planning Sessions

Quarterly 'Done in a Day' Workshops

Access to the Business Academy (2k value)

Access to the full WWD content archives

Done-for-you blog posts (2/month)

Done-for-you emails (2/month)

Done-for-you social posts (15+/month)

Done-for-you video prompts (2-4/month)

Done-for-you graphics (1-2/month)

20 FB post Canva templates

20 Instagram post Canva templates

20 Instagram reel Canva templates

20 Instagram story Canva templates

20 Pinterest Canva templates
Payment Plan
Admission to this program requires a min. 1 year commitment. Payments will recur every month until cancelled. Cancel anytime after 12 months.
Supportive Community

Weekly Accountability

Monthly Coaching Sessions

Monthly Growth Challenges

Monthly Content Creation Call

Monthly Tech Support Hot Seats

Monthly Planning Sessions

6 mo. Printed Planner

Quarterly Planning Sessions

Quarterly 'Done in a Day' Workshops

Access to the Business Academy (2k value)

Access to the full WWD content archives

Done-for-you blog posts (2/month)

Done-for-you emails (2/month)

Done-for-you social posts (15+/month)

Done-for-you video prompts (2-4/month)

Done-for-you graphics (1-2/month)

20 FB post Canva templates

20 Instagram post Canva templates

20 Instagram reel Canva templates

20 Instagram story Canva templates

20 Pinterest Canva templates
What are you Waiting For?
We have hundreds of screenshots and testimonials
from
our members sharing the amazing wins they've experienced in their life and business as a result of investing in themselves, and their
growth.
This Could Be You.
Honestly, what do you have to lose?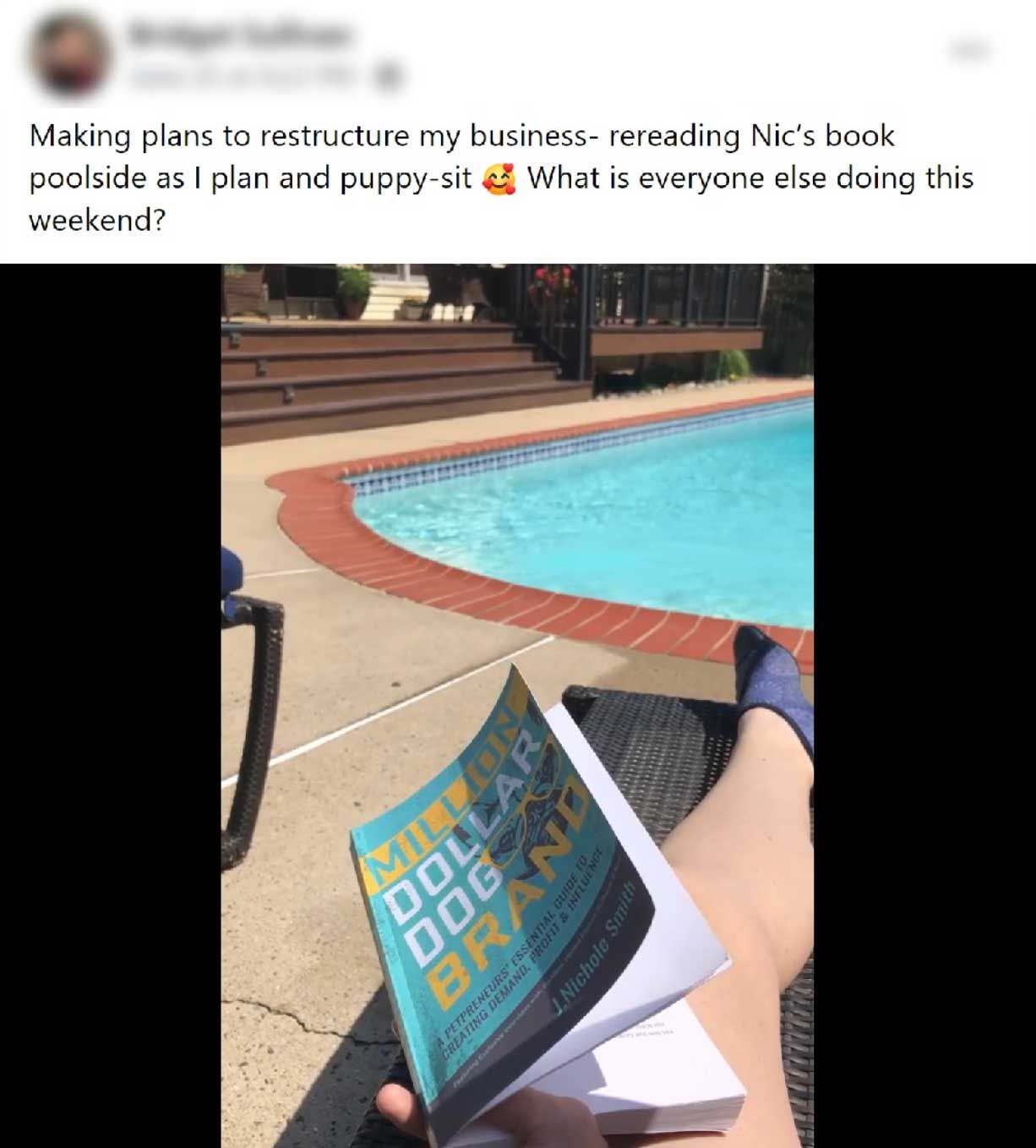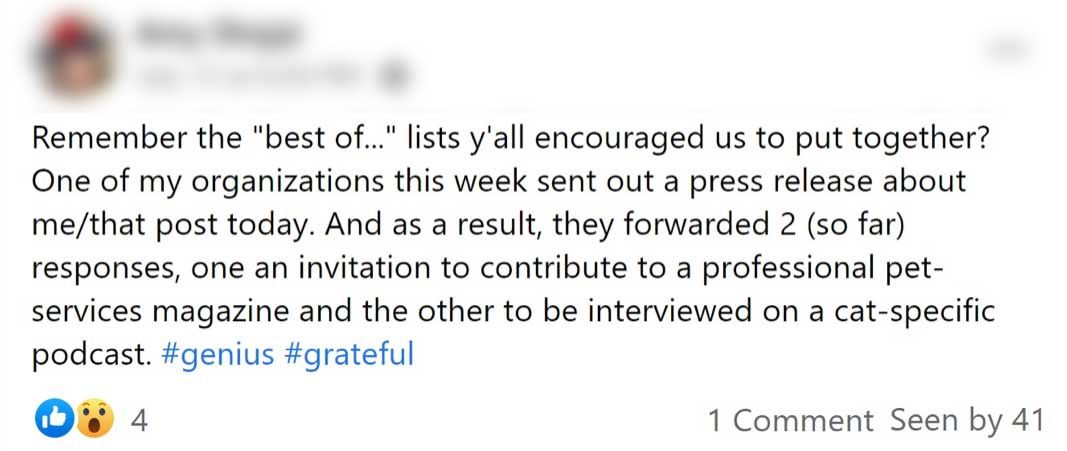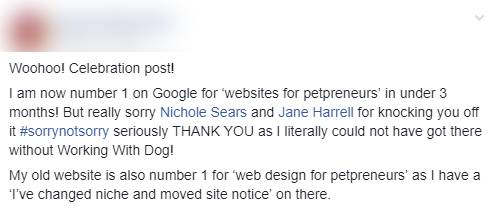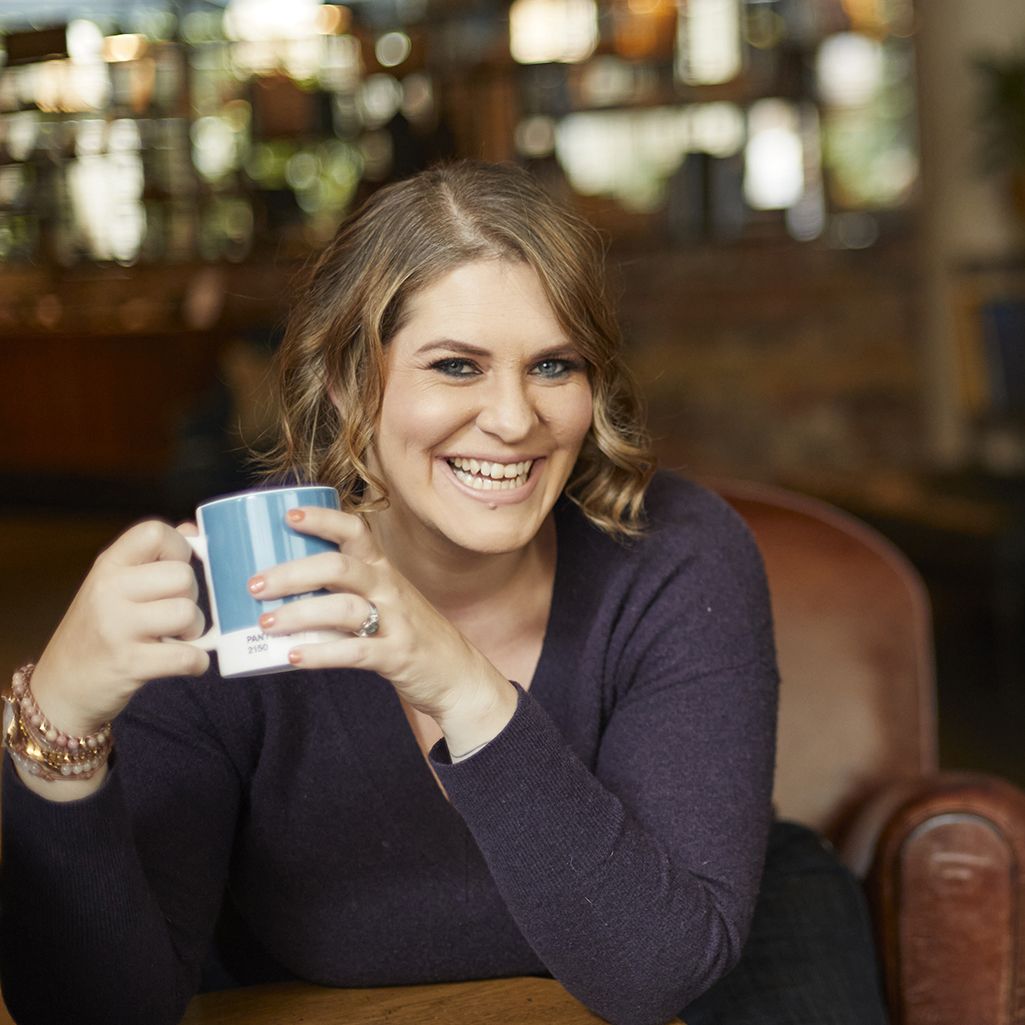 A MESSAGE FROM THE FOUNDER
After years of doing it the hard way, I finally discovered a short-cut...
I stopped trying to do it all by myself and I invested in support from people who had already achieved what I wanted to achieve.

This probably won't be the first time you've heard this - but maybe it's the right time and you'll really let it sink in and impact you this time.

Those people you're comparing yourself to who seem it all together? I guarantee you they're not doing it without help of some kind.



The other big secret?


Consistency. You've got to shift out of constant trial & error and into building sustainable habits. That's it!