Workshop: Build Your Lead Magnet
Get your email list growing in just one day, with the ultimate email list builder: a full-day workshop including a gorgeous 16 page email opt-in freebie template + a step by step walk through for getting your landing page LIVE to collect emails and deliver the freebie pdf.

With the support of Brand Architect, Color Psychology Consultant and Messaging and Positioning expert J.Nichole Smith, AND long-time Tech Director and superhuman problem solver Tracey Nichols you will get the freebie customized and get the landing page live in just one day.

PLUS learn how to use AI to make the whole process 10x faster.

*Free to members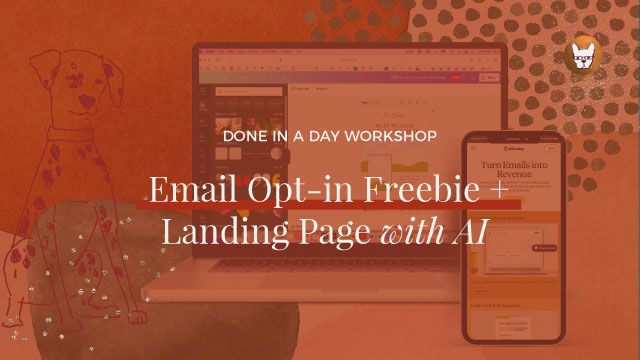 6 hours

Live Call duration

Lead Magnet Template

Fill in the blanks
Workshop Series
6 hr Live Workshop
Jump into our Quarterly 'Done in a Day' workshop series (Implementation Days) that up until now has only been available to our monthly and annual Working with Dog members. During these insanely high-value 6 hr workshops our experts walk you step-by-step through complex topics or big projects to make them simple, easy and in most cases... 'Done in a Day'.


Meet your hosts..
For this Spring Workshop, Brand Architect, Colour Psychology Consultant and messaging and positioning magician J.Nichole Smith will be walking you through creating an email lead magnet or 'freebie' and setting up a landing page to kickstart your email list-building... including LIVE demo + support using AI to make it 10x faster and easier!
Joined by long-time WWD Tech Director Tracey Nichols, you'll be supported creatively by Nic and with tech by Tracey - to get this delicious PDF done, edited and ready to deliver (with help from AI it'll be a breeze).
Plus
Quickly throw together a shiny new opt-in landing page + freebie pdf
to collect emails and deliver the PDF to your new subscribers.... And thus begins an entirely new era of your pet business...

The one where you have a growing email list of potential new customers streaming in! Plus, the one where you can see how quick and easy AI can be to support solid marketing strategy and templates like the ones we provide in Working with Dog.
What do you get
Workshop includes
6 hr workshop (with a break in the middle)
a 16 page Canva template for the PDF freebie (pick one of 4 color-ways, all you have to do is customize it)
Marketing Strategy support to craft an enticing offer that will make people want to sign-up,
and a walk through using Convertkit or Mailchimp, to help you build a quick and easy landing page
I'M IN, HOW DO I GET ACCESS?
Guaranteed Security using one of the most advanced encrypted systems on the market.
The information in this page is being processed and encrypted securely using industry-leading encryption and fraud prevention tools.